After watching moose mama and baby stroll down our street Sunday morning I was inspired to charge my camera batteries. So a couple hours later when the Bohemian Waxwings descended to the tree outside my window I was prepared!! This annual stripping of the tree is a magnificent sight and I am so grateful we were home to watch this year.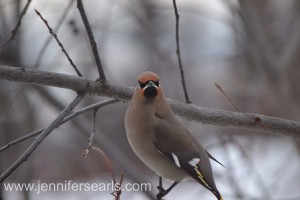 As I snapped lots and lots of pictures and repeatedly exclaimed wonder and joy throughout the magical show, Julie Lee's musical rendition of Emily Dickinson's Poem: "Hope" is The Thing With Feathers served up my  soundtrack.
"Hope" is the thing with feathers –
That perches in the soul –
And sings the tune without the words –
And never stops – at all –

And sweetest – in the Gale – is heard –
And sore must be the storm –
That could abash the little Bird
That kept so many warm –

I've heard it in the chillest land –
And on the strangest Sea –
Yet – never – in Extremity,
It asked a crumb – of me.
(I put my pictures to Julie Lee's music here if you're reading via email subscription or simply embedded in the post below)
My window thinking often takes me to questions of hope. How do I dig down and keep on when it feels like I'm completely spent? How do I reach past the panic and grab a handhold?
Sometimes the story seems completely random and offers no clues. A car accident, a miscarriage, a medical diagnosis. Sometimes the story makes more sense: a move, a career path, parenting, marriage, or friendship.
Regardless, I must set anchor for hope.
As I watched the birds and thought about Dickinson's words I saw beauty and mystery in this thing with feathers that perches in my soul. I have indeed heard it sing in the the gale, in the storm and in the chillest land.
But I disagree with these Dickinson's lines: "Yet – never -in Extremity, It asked a crumb – of me."
I've discovered Hope can take surprising form. Hope can come unexpected, like grace. Hope can hold my screams in the night.
The possibility that hope can take a shape that is not my first choice, or any choice of mine at all…..This demands a response and sometimes MUCH MORE than a crumb. It asks me to lean in and perhaps relinquish my desires. It requires me to  set anchor and stay present with the mysterious hope that can hold me through the storm.
After the Newtown shootings last year I heard an interview with theologian Miroslov Volf on NPR. He said,"The birth of hope is in the utter depths of despair." He continued, "Our souls are opened up to the one who holds the whole world in his hand…..these dark moments….they can open us up to something larger than ourselves and therefore give us grounding on which to stand and engage in the change of circumstances today. "
Into the storm of wrenching grief and terrifying fear flies this thing with feathers…..all beauty and mystery. And it is hope.