Last week Ryan was working on his art history course and needed to answer a series of questions. He chose Nymphéas reflets de saule (1916–19) from Monet's WaterLilly series for the focus of his work: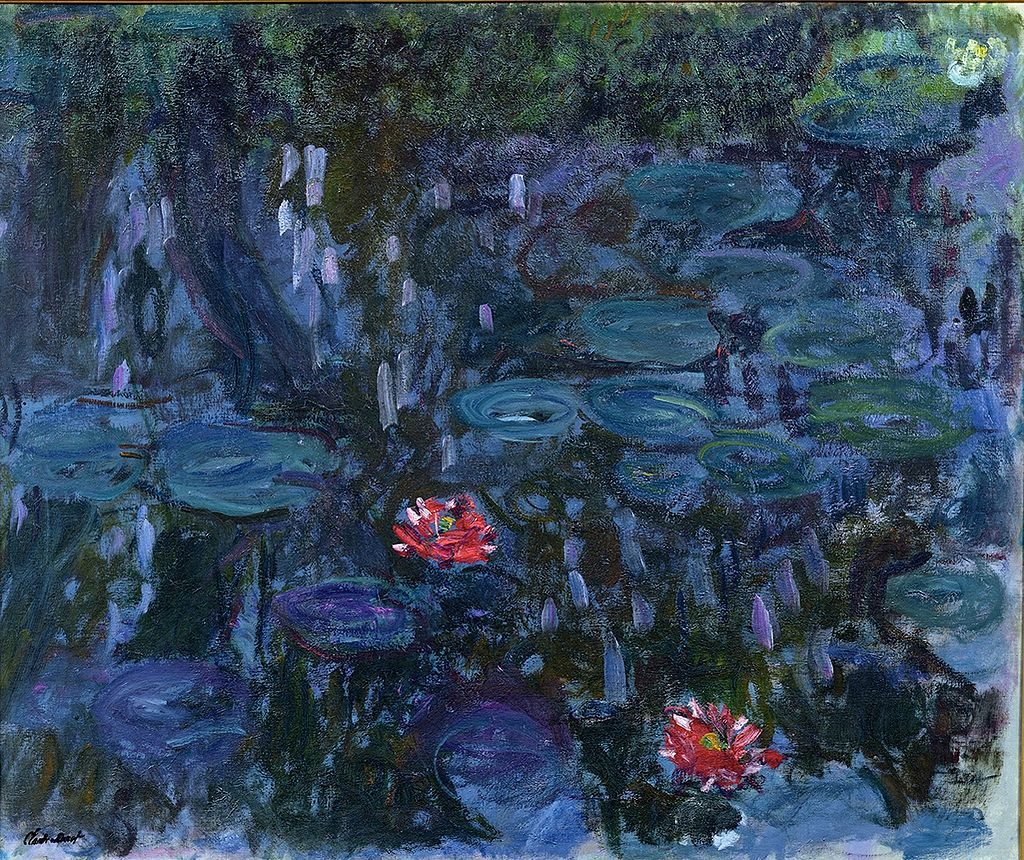 Claude Monet – Musée Marmottan Monet, Paris, Public Domain
I looked over his shoulder while he had this image up and I pointed out the obvious –  bright spots of color painted on a dark background. Ryan told me the time and context for this painting would have been World War I France and this launched us into a conversation about the color, shape, and texture of hope. In the midst of this discussion he went off to his room and returned a few minutes later with one of his well-studied World History texts. Thumbing through, he quickly found the page highlighting red poppies in the context of World War I (1914-1918): "Poppies that grew on the battlefields of the Western Front became a symbol for remembering the war." 
Later, intrigued by his insights and connections, I poked around the internet and came up with a couple interesting, easy to digest pieces of context:
1. This from the Royal British Legion on the poppies.
2. This from Kahn Academy on Monet's Water Lilies.
My takeaways:
1. Flowers grow in fields of grief.
2. Monet offers no ground to stand on and no horizon line to look toward and yet, "we are given a very particular angle in which we are viewing the lilies themselves."
______________
This past spring I accidentally found a lump in my right breast. (Accidentally – because I never go looking for stuff to fuel my anxiety!) As my fingers brushed against this ever-so-slight abnormality, my heart dropped to my stomach and my brain immediately went to work painting great, wide swaths of black dread across the canvas of my imagination.
I've had more than my share of mammograms in the 5 years since I got off to a rough start with my dutiful first at age 40. I know what it feels like to get called back for another look. And told to come back in 6 months to look again. And again.  There was that one time when I went in for a routine exam and got the "all clear" on the first try. But a different time and a different lump took me straight from the mammogram room into the ultrasound room for further review. Each of these stories ends with a deep breath of relief, but I never take that for granted, so when I stepped out of the shower on that Saturday morning last spring I knew the odds were in my favor but fear hung heavy on my mind.
A week later I showed up at the imaging center. I'd been here before and I'm sorry to say, it hasn't changed much in the last 3 years. I didn't have to wait long before I got called back to mammography where I was shown to the changing room, given a pink shirt (BREAST CANCER PINK), and directed to change and then join the other pink shirt ladies sitting in the adjacent waiting room. It's a super awkward scene in there. The little waiting room is charged with anxiety. Procedure rooms line the perimeter and people constantly come and go in all varieties of purpose and stress. A coffee pot on the corner table and a stack of magazines offer distraction, but there there is no avoiding the fact that we are there. Waiting. Bundles of emotion, wrapped in pink shirts.
Perhaps because this was not my first worrisome mammogram, I felt pretty relaxed when my name was called. My heart pounded loud beats of distress, but my experience insisted that in the end I would be okay. I took a deep breath to turn down the noise and stood up to take my turn. I chatted easily with the mammogram technician as she worked. We talked about our kids and Anchorage schools, and we talked about Bend Oregon, where she hoped to move soon and where I always hope to move soon. When we finished, she sent me back to the pink shirt room to wait while they reviewed my images and decided if I would need the ultrasound. They decided that I did. After the ultrasound I landed back in the waiting room yet again, and sat there scrolling my phone and texting while I waited for results. The minutes accumulated to a quarter hour, and then more. My texts began to take an anxious tone. The lady sitting next to me in an ugly pink shirt looked over and commented that I'd been there a long time. She was right. She'd been there a long time too. We started talking about her job. Her toddler twins. The fact that she was flying to remote Alaska next week for work. We followed conversation trails and kept our minds occupied and fears at bay. It seemed to mostly work because I was actually surprised when the ultrasound tech finally came out and ushered me into a new room. I guess I actually thought I'd clear this hurdle and get sent home with the rush of relief I'd known every time before. But suddenly this story veered into unfamiliar territory. She pointed to a chair for me, and then turned and shut the door. I felt the walls close in and black fear flooded my brain as she started to explain, but I could barely hear above my internal screams. I cannot believe this is happening! What am I doing in here?!?  Lump. Benign characteristics and concerning characteristics. BIOPSY. Whatever else she said, I don't know. She made a phone call, scheduled my biopsy for the next week, asked if I had questions, handed me papers, and sent me out. Stunned, I changed out of the pink shirt and found the way to my car. I sat in the hospital parking lot and cried. Over the next two weeks I ricocheted between the urge to vomit and the strength of courage. I was scared. My odds for a benign result were good, but cancer had just moved a step in my direction. I was adrift in the dark.
______________
One of my greatest privileges is to live in a community of people who know me well and love me still.  And also to have a therapist who has walked alongside me for years. Unmoored and disoriented, I turn to these people. And this is what I did now. They listened to me. I listened to them. I anchored myself in love and wisdom. But in this crisis, I noticed myself doing something else too. Against the icy Anchorage April landscape, I bought bright yellow flowers. I actively watched for the sun to break through clouds and light up the jagged mountain peaks that rise at the edge of all my views. I listened to music. And read poetry. I hugged my boys. In short, I anchored myself in stuff that gives shape to beauty in my life. The texture of hope.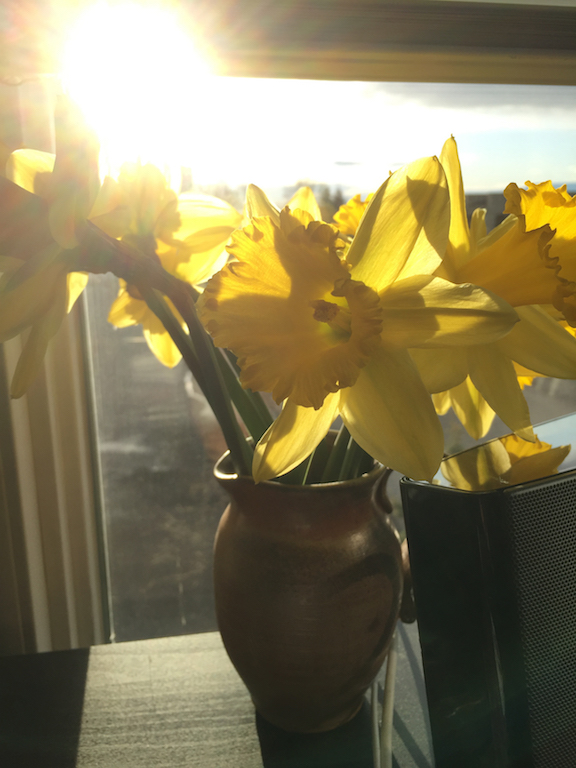 And beauty is really how I got to this story. Because as Ryan and I studied the color in this Monet painting, and when he pulled out the story of poppies in the WWI graveyard, I recognized my own story. In the midst of overwhelming fear and grief, beauty is a thru line.