On one of our walks home from school last week Ethan mused on the meaning of "work ethic" and offered some observations. He said his teacher had told them about "seven traits for success" that afternoon and work ethic was one of them. I pressed him for more of the list and he came up with responsibility, self-reliance, and fortitude. Fortitude?!? I. Did. Laugh. Out. Loud. "Fortitude!?! That is an awesome word!" And right there the conversation broke apart. He wandered around in his thoughts and then admitted he couldn't remember any of the other words, while I wandered around in mine, setting out markers with this word Fortitude. We were just a couple minutes from home at that point and as we turned the corner on to M Street the manlifts outside our apartment came into view. Our thought streams merged again as we stopped to discuss how many  (or how few) of the windows had been replaced since he left for school that morning. The window replacement project is clearly on #alaskatime.
Fortitude. It's not a commonly used word and it completely surprised me as it rolled off Ethan's tongue amidst words like self-reliance, work ethic, and responsibility. I love the sound of the word. Fortitude. It carries the weight of strength and resilience. It holds courage through a storm.
Google says this –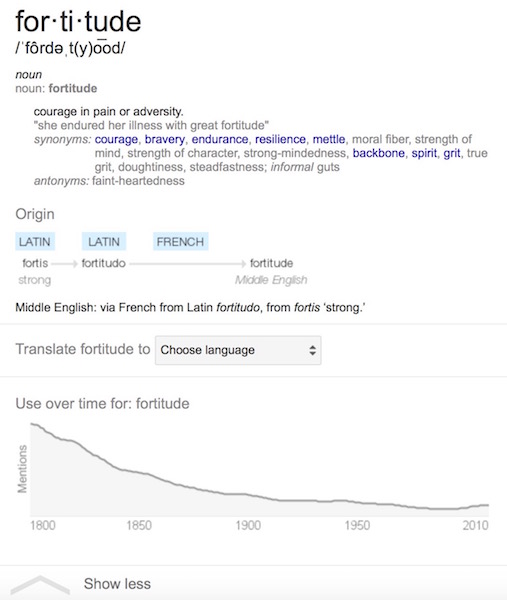 The handout from Ethan's teacher says this –
Fortitude
I do not give up.
I accept challenges.
I try my best, even and especially when things are difficult.
I do not whine just because something is not easy.
Fortitude makes me think of a stone fortress – standing strong as arrows fly and men fall. Strength of courage. A gritty fight to the end for all that is right.
Fortitude makes me think of dandelions – holding fast in the storm. Sometimes mangled and mashed. But yet still, able to hold a glimpse of grace in gold.
I limped along as Ethan and I walked home in the sunshine that day. I've finally pursued help for my nagging achilles injury and I had two dry needling sessions at physical therapy last week. THAT. Is as miserable as it sounds. But way more miserable is impact of the injury itself. It settled in 3 weeks before the Her Tern Half I'd trained for through spring and early summer and it knocked me off the starting line. There were tears of frustration and disappointment and then seven weeks of not running. I started back late summer, hoping to ease into a good running rhythm with time to prepare for the Zombie Half at the end of October. But just a few weeks back and I could see I had a problem that was not going to resolve with my plan so I made an appointment with the physical therapist and got in right away. He told me we can fix this. But first I had to stop all the things. No Thursday morning Skinny Raven practices, no Saturday long runs, no Bonny Sosa fall family trail runs, no uphill hikes, and go super easy on the bike rides. We have to get the pain to stop. And then we can start working back. With intentionality and care. And so very slowly.
There's so much more I could say. But in a word…..Fortitude. For such a time as this.